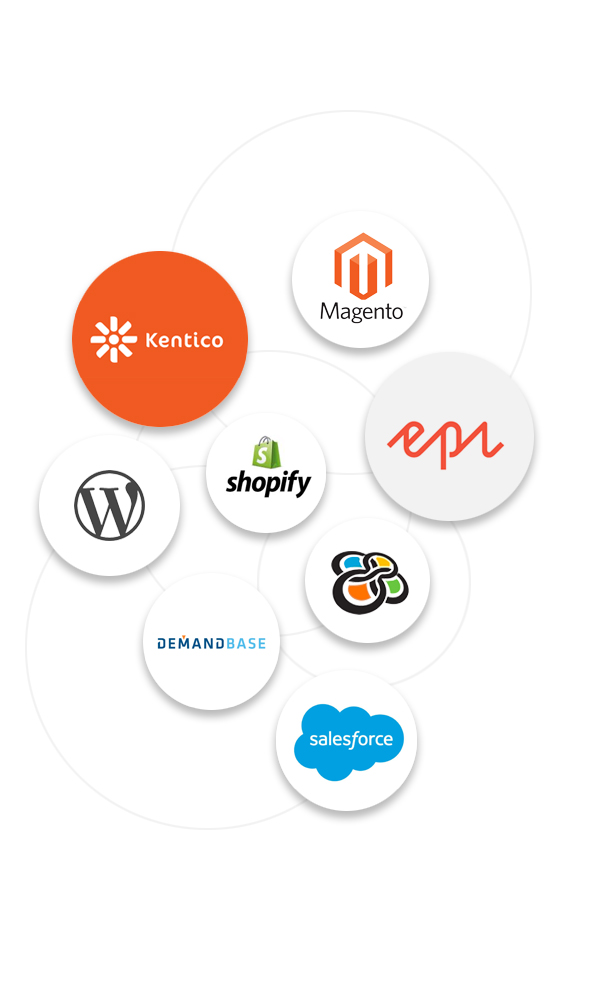 Web Development & Integrations
WE BUILD OUTSTANDING WEBSITES AND INTEGRATE THEM INTO YOUR DIGITAL ECOSYSTEM TO DELIVER AND EXCEED YOUR BUSINESS GOALS
Content Management (CMS) and eCommerce Platforms
Our CMS development expertise builds a website that a delivers on your Brand Flagship, customer engagement, lead generation and customer service goals. Our CMS platform expertise includes Kentico, WordPress, Sitefinity and EpiServer.
Our eCommerce development team drives exceptional transactional revenue sites for physical and digital products. Our eCommerce platform expertise includes Kentico, Shopify, Magento, EpiServer and Sitefinity.
Digital Ecosystem Integration
As part of the website development, we integrate the CMS and/or eCommerce website with your digital ecosystem. This includes Marketing Automation Platforms (MAP), Customer Relationship Management (CRM), Order Management (OMS), Enterprise Resource Planning (ERP), Website Analytics and Specialized Services.
User Experience & Web Design
WE FOCUS OUR DESIGN PROCESS ON UNDERSTANDING THE CUSTOMER MISSION AND NEEDS TO CREATE THE OPTIMAL EXPERIENCE IN VISUALLY-APPEALING AND RELEVANT INTERFACE DESIGNS.
Our creative process is an important collaboration between our client and us. One that utilizes our clients in-depth understanding of their business and our creative thinking to produce Personas, user experience strategy, and ultimately interaction design that leverages the power of the interface to help connect with users.
We've been at this game for a while — and are proud to offer the insights you crave at every step in the process.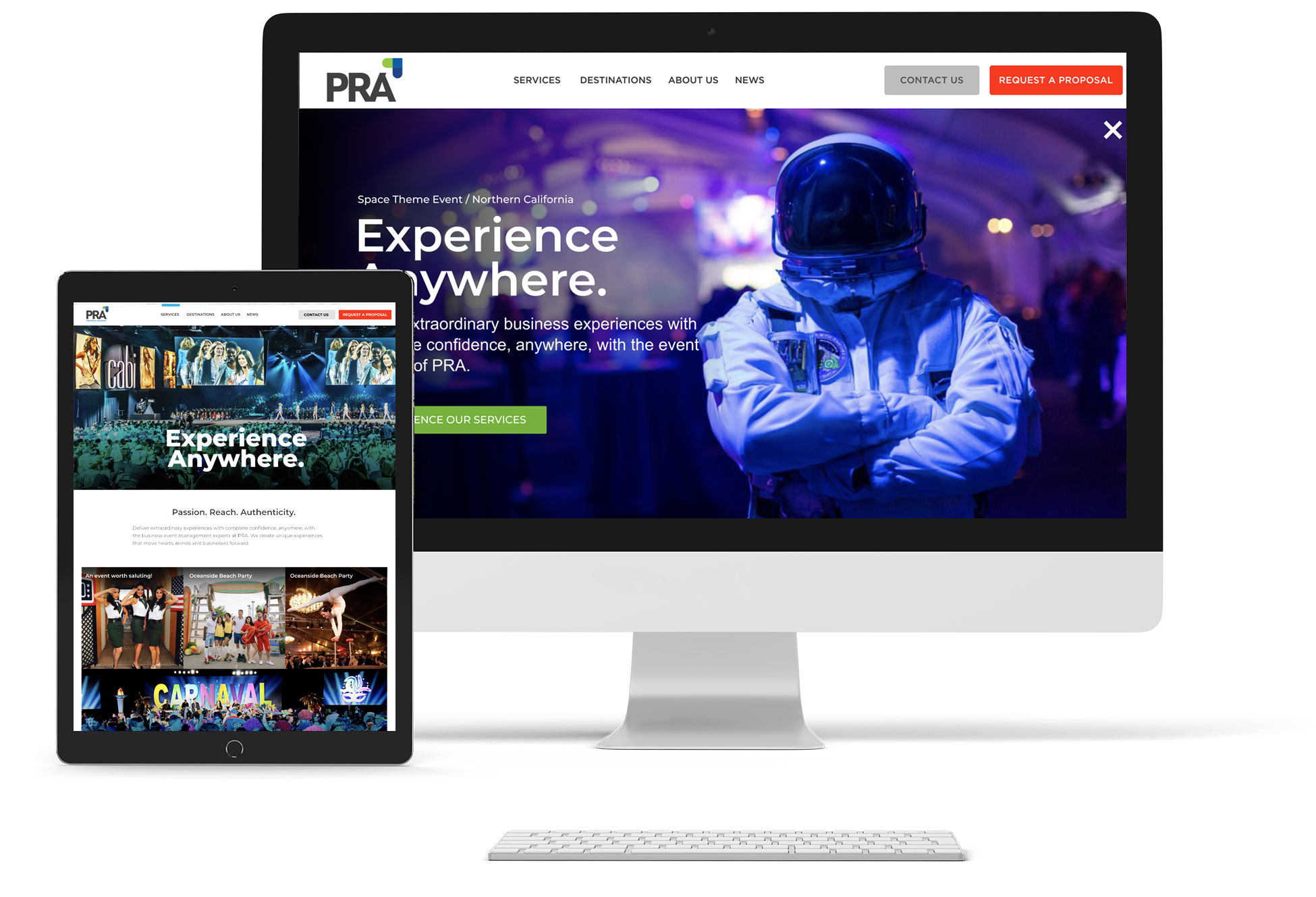 eCommerce Solutions
WE VIEW OUR CODE AS A CRAFT AND TAKE GREAT CARE TO DEVELOP FLEXIBLE AND SCALABLE SOLUTIONS THAT HAVE A LONG LIFESPAN.
eCommerce is a complex initiative based on product or service catalog, inventory, multiple payment systems, currency, tax determination, retail and wholesale, fulfillment, customer service and revenue optimization. Alphazeta is expert in managing and building out the solution for first time eCommerce website needs to upgrading to best-in-class enterprise solutions and deliver exceptional revenue growth results.
B2B and B2C
We have deep experience in both B2B (wholesale) and B2C (retail) eCommerce strategy and development. We even built internal employee eCommerce applications for samples, collateral and swag.
Physical and digital product
Our team is expert in the different architecture and development of physical products catalog and fulfillment as well as digital (downloadable) product catalog and digital fulfillment including required licensing variations.
Form of payment
We have developed and integrated credit card, pay-pal, amazon pay, apple pay, PO/invoice forms of payment. This includes payment gateway integration and PCI compliance.
AOV and revenue optimization
We architect and build eCommerce website with revenue optimization for launch and perpetual enhancement. This includes upsell/cross-sell capability, personalized content and product recommendations, A/B test capability, customized incentive offerings and loyalty programs.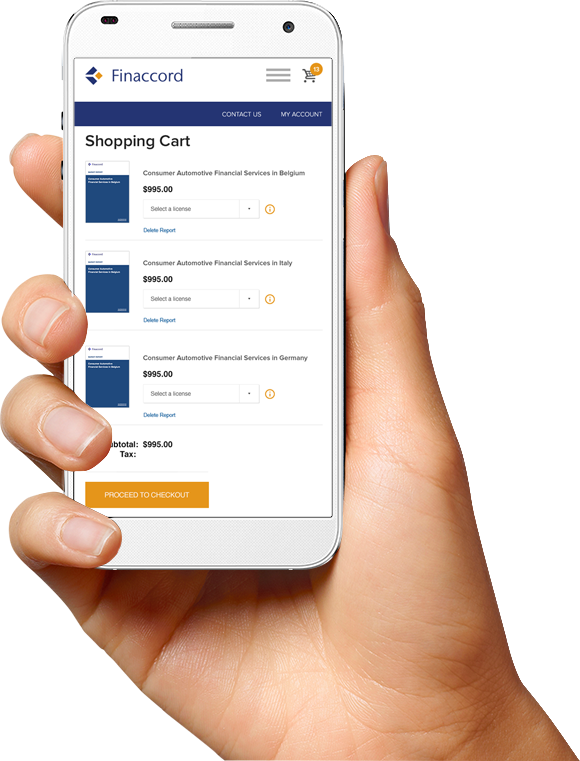 Analysis &  Insights
OFTEN UNDER-LEVERAGED, WE BELIEVE THIS IS THE DIFFERENCE BETWEEN GOOD AND GREAT, BETWEEN +10% AND +100%, BETWEEN USAGE AND LOYALTY.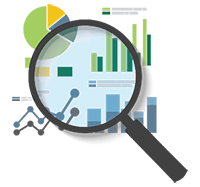 We have the insight
Understanding the customer is key to optimizing your website. What are they seeking, how are they interacting with the website, do they achieve their mission or not? Insights lead to segmentation and  experience optimization.
It all starts with understanding the customer mission and needs. A typical process entails getting a download of your research, analyses and insights. We then conduct a workshop with you to clarify and build on your insights, customer journey and personas. Additional needs are identified and prioritized. This often includes further data analysis, customer surveys and in-depth customer and competitor's customer interviews to uncover targeted insights.
We provide ongoing analysis and reporting on a monthly basis. This goes beyond just findings to presenting insights and recommendations. We also provide ad-hoc specialized analysis as requested.
This is a key for revenue optimization. We analyze your customer and orders data to create relevant segmentations. This can help guide personalization content, merchandising, and testing to drive revenue growth.
Digital Strategy & Consulting
OUR STRATEGY AND CONSULTING TEAM HELPS GUIDE OUR CUSTOMERS ON HOW TO ACCOMPLISH THEIR DIGITAL BUSINESS GOALS.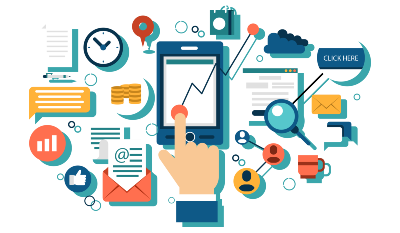 Improved business performance
As experienced digital business and technical leaders who have driven transformational growth and built high-performance websites, we provide the expertise to address your needs. This can range from how to achieve nascent digital transformation to sophisticated optimization and market leadership.
We provide an assessment of your existing situation and strategies in a SWOT – type format. This is the basis of our recommendation development for your digital business strategies and roadmaps.
B2B Demand generation has undergone a transformation with the advent of Account Based Marketing (ABM). Our ABM certified team has been on the forefront of helping our clients plan and implement ABM initiatives to deliver major ROI gains in clients and revenue growth.
eCommerce continues to be the major growth engine for most businesses. Advances in analytics, customer relationship management and individual-level content and offer personalization are achieving next-level gains in eCommerce. We have helped our eCommerce clients to achieve outstanding growth leveraging these tools and methodologies.
Hosting & Security
ALPHAZETA'S WORLD – CLASS DATA CENTER ON THE INTERNET BACKBONE PROVIDES EXCEPTIONAL WEBSITE PERFORMANCE.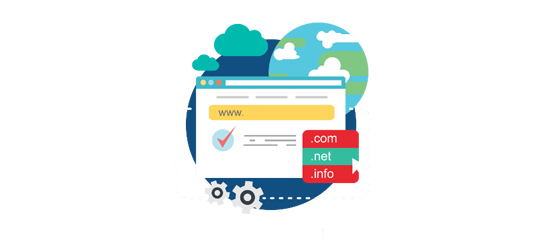 Build on a secure foundation
Alphazeta provides customized hosting and security services for the specific needs of your business. From website performance to best in class PCI compliance and security, your website operation is optimized.
Website Support
THE ALPHAZETA TEAM PARTNERS WITH YOU TO PROVIDE ONGOING WEBSITE SUPPORT AND MAINTENANCE BASED ON YOUR WEBSITE GOALS AND ORGANIZATION NEEDS.
The support you need
We help you to continuously improve your website and user experience from strategy to development. We'll modify and enhance content, images and user experience and ensure all technical aspects perform as required.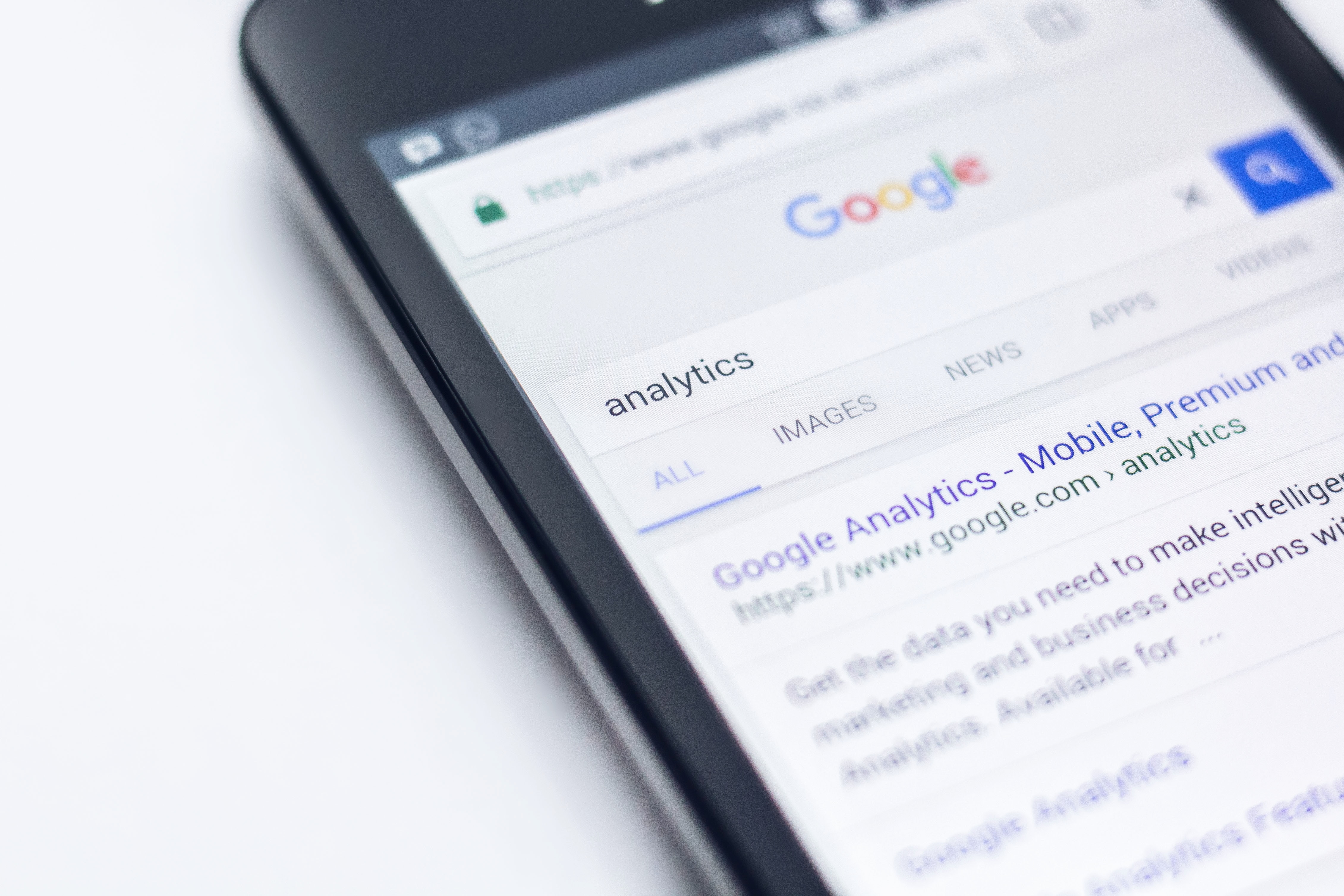 Specialized Services
ADVANCED DIGITAL MARKETING AND ADA COMPLIANCE
Leverage your website to achieve advanced marketing performance by optimizing Organic Search targeted traffic results and ABM lead generation integration to drive higher quality prospects and MQL/SQL results. Ensure your website complies with the ADA accessibility guidelines.
This is a fast-growing, innovative strategy that helps your organization reach your B2B marketing and sales goals.
Alphazeta's DemandBase ABM certified team has been on the forefront of helping our clients plan and implement ABM initiatives to deliver major ROI gains in clients and revenue growth. We help you plan your ABM goals and strategies, whether for beginners or to optimize or upgrade existing ABM solutions and practices.
We utilize a proven methodology to work with you to develop a 30/60/90 day plan that will achieve:
SALES & MARKETING ALIGNMENT
IDENTIFY TARGET ACCOUNTS
DEVELOP MARKETING STRATEGIES & PROGRAMS
MEASUREMENT GOALS AND TRACKING
 TECHNOLOGY ENABLEMENT
2,235 new ADA Website lawsuits were filed in federal court in 2019.
The American with Disabilities Act requires that websites be in compliance with providing access to disabled Americans. It's the right thing to do but it also is a legal requirement. Alphazeta has helped clients ensure their websites are in compliance with accessibility standards.
We follow the Web Content Accessibility Guidelines (WCAG) 2.0 accepted industry standard for digital accessibility. We have a proven methodology that provides
Audit – We conduct both automated scanning audit as well as human expert audit to determine your website status and identify specific compliance issues.
Fix – Our UX and developer experts remediate the identified compliance issues and QA verifies the code.
Maintain – We train your designers and developers on best practices to achieve ongoing compliance and we conduct regular audits to measure and ensure ADA compliance.
Contact us to find out more.
Successful websites generate more traffic from Organic Search than any other source, except Direct. Alphazeta's SEO team have helped our clients optimize SEO to maximize relevant traffic growth and business ROI. Our process includes:
Conduct website and industry audit
Analyze site performance – review current state of key on-page and off-page ranking factors
Keyword research
SERP review
Competitive analysis
Report key findings and insights
Refine KPI's
Implement high impact on-page SEO enhancements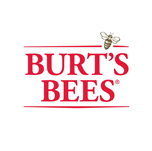 "AZ is part of the Burt"s Bees team. From business and technical strategy to tactical execution and implementation they constantly exceed expectations. They are a steward of our business and trusted partner."